Inside the April/May 2019 Box
Posted on May 15 2019
We carefully curate each LOVE GOODLY box with healthier products, always vegan, nontoxic and cruelty-free beauty and skincare that you can use every day. Click here to learn more about banned ingredients.
The April/May 2019 Box brought back our favorite vegan, nontoxic, cruelty-free beauty brand 100% Pure - this time we featured two of their amazing products! Supporting Farm Sanctuary, the April/May 2019 Essential Box has a total retail value of $105.48, and the VIP Box has a total retail value of $140.48
100% Pure Blur Bamboo Powder, $41
Blurring, skin perfecting powder for all skin types provides sheer to light coverage, and makes your complexion look silky and poreless. Mattifying setting powder made in a base of bamboo silica and colored from fruit pigments. Vegan, Nontoxic, Cruelty Free, Gluten Free.
100% Pure Fruit Pigmented Cocoa Butter Matte Lipstick, $30
An innovative formula that ensures your lip color always looks vibrant, rich and full, never dry. Formulated with healthy fruit pigments and a nourishing blend of cocoa butter, shea butter, and vitamin E to moisturize while providing intense rich color. Available in three shades: Sahara, Cacti, Aubergine. Vegan, Nontoxic, Cruelty Free, Gluten Free.
Delia Organics Creme de la Creme Body Whip, $19.99
Your body is just as important as your face! This is a beautiful lightweight body creme that will provide hydration and a sheer glow, leaving you with a warm, embracing scent of cinnamon sugar and vanilla. Softens and refines skin texture, paraben free, organic, lightweight, and effective. Vegan, Nontoxic, Cruelty Free, Organic.
Angie's BOOMCHICKAPOP Popcorn, $2.50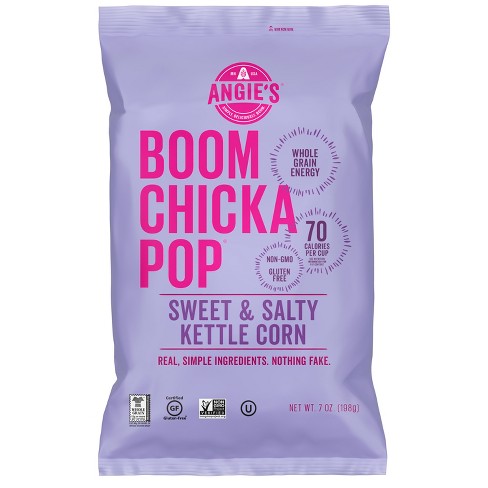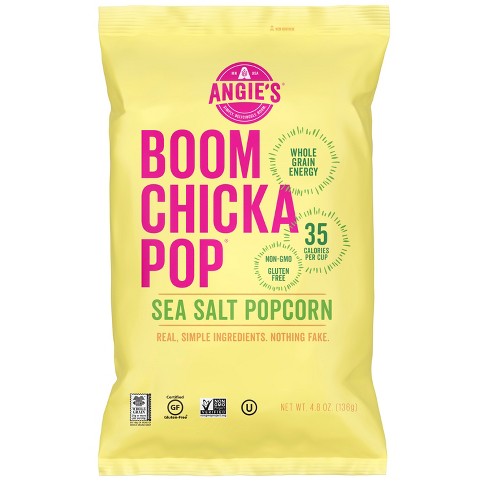 Like its founders, Angie's BOOMCHICKAPOP Popcorn is committed to bringing positive energy to support the boundless futures of women and children everywhere. They're proud to give back to the community and support causes that empower people. Available in Sea Salt and Sweet & Salty Kettle Corn. Vegan, Non-GMO, Gluten Free.
Alka-White Alkaline Mouthwash Tablet in Turmeric, $9.99
A unique mouth rinse tablet with turmeric is a tooth whitening system that safely whitens teeth. Rinsing and brushing with the portable effervescent tablets creates an alkaline oral environment, which strengthens enamel, freshens breath, and makes teeth less sensitive. The combination of turmeric and coconut oil is anti-microbial and anti-inflammation. Pieces of the tablet can be broken off and used directly in the mouth or drop a whole tablet in warm water. Brush with the remaining paste to whiten teeth and prevent plaque buildup. Vegan, Nontoxic, Cruelty Free, Gluten Free. The April/May Box comes with one tube of the mouthwash tablets; available in our online shop in a set of 2 tubes.
VIP BOX ITEM
Neelu Kaur Ayurvedic Dosha Balancing Essential Oil Blends, $35 [SOLD OUT]
Ayurdevic Dosha Balancing Essential Oil Blends helps you relax, de-stress, and bring out your inner strength. Comes in one of three blends: Surya is grounding and helps with vata imbalances like anxiety or sleep issues; Shava is cooling, helps with pitta imbalances like overheating; Shakti balances kapha so it's uplifting and energizing, for a pick-me-up throughout the day. Vegan, Nontoxic, Cruelty Free, Gluten Free.
---
A picture may say a thousand words, but we can't possibly convey the quality, taste, and feel of these products. Want to try them for yourself? You can subscribe to the box here, or purchase the one-time gift box here.
 
Subscribe now!
https://www.lovegoodly.com/subscribe